Rail Passenger Rights & Obligations
What passenger feedback tells us
Feedback from our passengers consistently tells us that providing timely and reliable information, particularly when things go wrong, is one of the biggest priorities for our passengers.

The industry has developed a set of information pledges, which define our commitments in respect of information provision.

We have a number of tools and channels that are available for passengers to find out the latest information both before, during and after the journey. These include our app, website, Live Disruption map as well as the services provided by National Rail Enquiries and other 3rd parties. We also provide information through Social Media, live from our Control Room 24/7

Full details of the information services are available to download on our PIDD Delivery Plan PDF.
---
How requests for information are handled at the station
As well as tools for our passengers, we have several internal systems that enable our colleagues to have the latest information to assist with passenger enquiries. These include live maps showing in the real-time location of trains and internal messaging systems providing a live feed from our Control room.
How information about train schedules, fares and platforms is provided
Through our website we provide several journey planning tools including;
Journey Planner: incorporating real-time information about delays, disruption and platform numbers our journey planner provides details of journeys between any stations on the GB rail network, and includes details of alternative routes that passengers may need to take during disruption. Information is provided up to 12 weeks in advance of travel and also includes fares and the ability to purchase online.
Downloadable timetables: Covering all Southeastern routes, including SeatFinder timetables that indicate those trains which are expected to be busy. These can be found on our timetables page.
Engineering work: Details of planned changes to our timetables for maintenance and improvement work are available on our planned engineering work page.
Live Departure Boards: showing upcoming departures (and arrivals) for any station on the GB rail network. These include the platform number (when it's confirmed) together with the latest status of the train, including details of delays or cancellations and the reasons for these. Our live departure boards will also show the number of coaches on the train (where available) together with the usual seat availability (for most Southeastern services).
Southeastern app: Providing personalised real-time information and journey planning for the GB rail network together with the ability to purchase tickets and pre-load our smartcard, The Key. You'll also find SeatFinder information to see how busy your train will be and toilet availability data for your train. Push notifications also being available, when there's disruption to services, a change to station facilities or where the train is running with fewer carriages then normal. Our Southeastern app is available for download from Google Play or the App Store.
Live Disruption Map: showing the real-time status of our network and highlighting any location(s) where there is disruption. The live disruption map now incorporates a 'calendar' view, so that customers can see a visual indication of routes affected by engineering work up to 12 weeks in advance.
---
Ticket buying facilities
All of our stations have self-service ticket purchasing facilities and most stations have a ticket office. Details of ticket office opening hours are available on our station information page.
We also provide our contactless smartcard, The Key which can be loaded online, via the Southeastern app as well as at stations.
Tickets can also be purchased through our ticketing website or via the Southeastern app for all journeys on the GB rail network.
---
Availability of staff at the station for information provision and ticket sales
A significant number of our stations have staff on-hand to assist passengers with information about their journey and to purchase tickets. For details of those stations which have staff-on hand, together with the times they are available, visit our station information page.
Where a station doesn't have staff available, a "Help Point" is provided which passengers can use to connect with one of the team, 24 hours a day.
---
How information to disabled people and persons with reduced mobility is provided
Passenger journey information
All Southeastern stations, and the stations at which we call have Customer Information Screens (CIS). These display details of the next train to depart the station, as well as calling points. In addition, most of our stations have a public address (PA) system which provides audio details of the information displayed on the screens.
All Southeastern trains have Passenger Information System (PIS) which provide visual updates of the journey and automatic announcements about the stations the train will call at. Where we have on board staff, such as conductors or On Board Managers they will also do their best to walk through the train to provide information to all passengers.
During planned disruption any passengers booking assistance, are advised by our customer services team in advance of travel.
We are currently reviewing how we update and what accessibility information is available at stations and on our website during planned disruption. When there is disruption affecting a journey this will be displayed on customer information screens and through PA announcements at stations. The on board staff on trains will also make announcements about delays, diversions or terminations of service.
You can access information about disruption on our live travel information page, the Southeastern app, through our twitter feed @SE_Railway or by checking National Rail Enquiries (NRE).
You can access information about planned disruption at stations on our planned engineering work page or through National Rail Enquiries, which will give details of the accessibility of rail replacement services.
Changes to working facilities at stations will be posted as an alert message on the corresponding National Rail Enquiries station page. We have also introduced messages about non-working lifts to our station customer information systems so that when a train is going to be calling at a station where the lift is currently not working, this will automatically be announced on the station display so passengers can make alternative arrangements with our staff.
We will do our best to display signage at stations that are affected, such as a lift being out of service, to make all passengers aware. If you are on a station or train and notice that something is out of order, please make station or on board staff aware. You can tweet us @SE_Railway, or contact our Passenger Assist team if you are on a train and unable to get the train crew's attention.
If any facilities have been changed from what you expected or booked, our staff will work with you to find the best travel solution for you.
Information points, help points and contact centres
Information on the services Southeastern operates and services operated by train companies that run through stations we manage can be found at our ticket offices, which are also information points on our stations when open. Information about fares, timetables and connections can also be found here, as well as up to date information about any delays or disruptions affecting rail services. They will also be able to confirm any bookings made for the Passenger Assist service. These information points are indicated using the universal 'I' sign for information.
The meeting point for booked Passenger Assist will be at the ticket office, the gateline (if there is one), or the platform office. At unstaffed stations when boarding a service with on board staff, please wait on the platform. You can check out our station information page where you'll find each station meeting point is listed.
If you need information about the accessibility of other forms of transport from the station (such as buses, London Underground, trams, metro and taxis), our staff will do the best they can to help you. They may not have access to this information but they will be able to help you with where you can find it.
We'll make sure that information regarding the services we provide is kept up to date and continuously made available to other train companies and station operators – including information regarding delays, diversions or other events that may impact your journey.
If you require live train running information on the day of travel then please speak to a member of station staff, use the Southeastern app, follow us on Twitter @Se_Railway or use our journey planner. Our passengers can also contact us on WhatsApp 07866 002 690.
At our larger stations we will have leaflets and posters available regarding our services and those of other train operators who serve the station. These will be placed at varying heights accessible to you. We also provide posters on our stations, which give you information about local services and transport available from that station, as well as indicating the nearest staffed station if required.
You can find Help Points at all of our stations where you can speak directly to an operator who can make arrangements to assist you.
Information regarding all national train services is also available by contacting National Rail Enquiries:
Tel: 03457 48 49 50
Website:
www.nationalrail.co.uk
Text Direct: 0345 60 50 600 (for people who are hard of hearing or deaf)
Websites
We continue to develop our websites to ensure they meet AA Web Content Accessibility Guidelines (WCAG) compliance, an industry-recognised standard for web content accessibility.
The Southeastern website has been designed to work with screen readers, magnifiers, voice over software and in-browser accessibility functions. To help you find the information you need we also provide a link to our Accessibility content from our homepage.
It has everything you need to help you book assistance and purchase a ticket to travel (including details of discounts available to disabled passengers). It also includes a direct link to our station information, which includes details of onboard and station facilities, as well as station accessibility details and staff availability.
In addition, there's a link to enable you to access the Making Rail Accessible customer leaflet and details of how to obtain it in accessible formats. You will find information on how you can provide feedback or make a complaint and we include information on the availability of redress for when assistance has not been delivered as booked. You will also find links to other relevant information.
You can also book Passenger Assist and track your requests through the new Southeastern app.
Create an Accessibility Profile to make booking Passenger Assist even faster.
Download our new app for free the App Store or Google Play.
For further information check our Accessible travel policy.
Delays
Overall average delay of services in % per category of service (international, domestic long-distance, regional and urban/suburban)
| | |
| --- | --- |
| Avg. Mins delay per service | 2022/23 |
| Mainline | 3.3 |
| Metro | 1.3 |
| Highspeed | 4.4 |
| Southeastern | 2.18 |
% delay at departure 2022/23:
15.74%
% delay at arrival 2022/23 (of which):
On time – 65.29%
| | |
| --- | --- |
| % delay of less than 60 mins, 60-119 mins, 120 mins or more | 2022/23 |
| 1-60 @Term | 34.7% |
| 60-119 @Term | 0.05% |
| 120+ @Term | 0.0% |
Disruptions
Running one of the most intensive rail services in the UK means that unfortunately things can occasionally go wrong.
When this happens, we work closely with Network Rail and have a number of contingency plans which our operational teams in our joint Control Centre are able to deploy to help keep trains moving and minimise disruption.
For certain events, such as Severe Weather, we have several pre-prepared timetables which will be published on our website when they are introduced.
Cancellations of services as part of all services in % per category of service (long-distance, regional and urban/suburban).
| | |
| --- | --- |
| All Cancellations | 2022/2023 |
| Mainline | 3.12% |
| Metro | 2.65% |
| Highspeed | 2.37% |
Cleaning intervals
The periodicity of the cleaning:
Daily turn round clean (stations & depots) – each time a unit terminates at a hub station, both Metro and Main Line or berths in a depot
Elements of on train cleaning – daily
Overnight clean – all units receive this clean every night at all berthing locations
Approximately every 28-35 days heavy clean, applies to all units
---
Technical measurement for air quality (e.g. level of CO2 in ppm) of the HVAC and ventilation systems
Fleet
Total Seats (Current)
Seat Per Vehicle
Ventilation Rate
CO2 Level
Comments
Class 707
275
64 (TOS)
3600m3/h
1335ppm
CO2 info based on all seats within a vehicle being occupied
375/3 Electrostar
176
60 (DMOSA)
30m3/hr/psp
Max 993ppm
Tem ≥ + 15o C and Tim ≥ Tic +1 K
375/6

Electrostar

242

60 (DMOSA)

30m3/hr/psp

Max 993ppm

Tem ≥ + 15o C and Tim ≥ Tic +1 K
375/7

Electrostar

242

60 (DMOSA)

30m3/hr/psp

Max 993ppm

Tem ≥ + 15o C and Tim ≥ Tic +1 K
375/8

Electrostar

242

60 (DMOSA)

30m3/hr/psp

Max 993ppm

Tem ≥ + 15o C and Tim ≥ Tic +1 K
375/9

Electrostar

274
71

(DMOSA)

30m3/hr/psp

Max 993ppm

Tem ≥ + 15o C and Tim ≥ Tic +1 K
376

Electrostar

216
46

(DMOSA)

30m3/hr/psp

Max 993ppm

Tem ≥ + 15o C and Tim ≥ Tic +1 K

465/0 BREL

333

86 (DMOS)

1800m3/hr

Max 413ppm

Air ventilated via doors and hopper lites. If Emergency ventilation kicks in due to high temperature it has been recorded at 1800m3/hr. The emergency ventilation is in the process of being isolated.



NOTE: this is based on GEC information, unable to find BREL info at present

465/1 BREL

333

86 (DMOS)

1800m3/hr

Max 413ppm

Air ventilated via doors and hopper lites. If Emergency ventilation kicks in due to high temperature it has been recorded at 1800m3/hr. The emergency ventilation is in the process of being isolated.

NOTE: this is based on GEC information, unable to find BREL info at present

377 Electrostar
230

60 (DMOSA)

10m3/hr

Max 993ppm

Tem ≥ + 15o C and Tim ≥ Tic +1 K
465/2 GEC
333
86

(DMOS)

1800m3/hr
Max 413ppm
Air ventilated via doors and hopper lites. If Emergency ventilation kicks in due to high temperature it has been recorded at 1800m3/hr. The emergency ventilation is in the process of being isolated.
465/9 GEC
310
74

(DMOS)

1800m3/hr
Max 411ppm
Air ventilated via doors and hopper lites. If Emergency ventilation kicks in due to high temperature it has been recorded at 1800m3/hr. The emergency ventilation is in the process of being isolated.

466 GEC
172
86

(DMOS)

1800m3/hr
Max 413ppm
Air ventilated via doors and hopper lites. If Emergency ventilation kicks in due to high temperature it has been recorded at 1800m3/hr. The emergency ventilation is in the process of being isolated.

395 High Speed
349
66
17m3/min
Max 1435ppm
Availability of toilets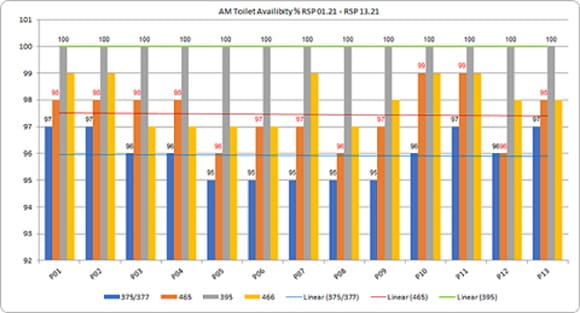 Customer Satisfaction survey
April 2022 to March 2023 Actual
Source
Punctuality of trains
75

%

CSS
Information to passengers in case of delays
44

%

CSS



Accuracy and availability of information on train times/platforms

86%

CSS



Consistently good maintenance/excellent condition of trains
65

%

CSS



High level of security in station

71%

CSS



High level of security on train

70%

CSS



Cleanliness of inside of the train
72

%

CSS




Provision of useful information throughout the journey

71

%

CSS




Response times to information requests at stations

N/A

No data

Availability of good quality toilets on every train

46

%

CSS




Cleanliness and maintenance of stations to a high standard

71%

CSS



Accessibility of stations and trains

N/A

No data
Assistance provision to disabled persons and persons with reduced mobility

N/A

No data
Further notes:
the above targets are based on the Southeastern Customer Satisfaction Survey – a replica of NRPS but undertaken on a continual basis.
Procedure in place
Southeastern is one of the biggest and busiest train operating companies in the UK with around 178 million passenger journeys made on our services every year across South East London, Kent and East Sussex.
Customer satisfaction is one of our top priorities and we're committed to consistently providing a safe, reliable, and welcoming service on every one of those journeys.
But we know that despite our best efforts there are times when things don't go to plan. If this happens and you're not happy with the service you've received then let us know. It's important to us that where possible we resolve any issues you've encountered. Your feedback also helps to drive improvement across the company and influences the training we provide our people.
This Customer Complaints Handling Procedure explains:
How to make a complaint
How we will listen and respond to your complaint including how quickly you should expect a response
The types of compensation you might expect
How we review and monitor the complaints we receive and how we respond to them, to drive improvement
We aim to work with you to resolve any issues as quickly as possible without the need of third party involvement. However you can contact the Rail Ombudsman if you are unhappy with the response we've provided.
No of complaints and outcome:
Total number of complaints closed – 27,853
| | |
| --- | --- |
| Level 2 categories for complaints | YTD |
| Accessibility issues | 467 |
| Company policy | 2,236 |
| Complaints handling | 2,318 |
| Delay compensation schemes | 5,074 |
| Environmental | 194 |
| Fares, Retailing | 7,158 |
| Other | 438 |
| Provision of information | 1,921 |
| Quality on train | 1,944 |
| Safety and security | 1,382 |
| Staff conduct and availability | 3,036 |
| Station quality | 888 |
| Timetabling and connection issues | 3,583 |
| Train service performance | 5,919 |
| | 36,558 |
Received complaints
Total number of complaints received – 29,094
Processed complaints
Percentage of complaints responded to within 20 working days – 100%
Average response times
3 working days
| | | |
| --- | --- | --- |
| Complaint category (level 3) | Total complaints | Commentary |
| Punctuality/reliability (i.e. the train arriving/departing on time) | 5919 | Southeastern delivered an On Time MAA of 65.3% during 2022/23, this was a 6% fall on the previous year; key causes of performance issues during the year were asset failures, speed restrictions caused by soil moisture deficit and external events such as trespass on the railway. Cancellations also rose by 0.53% to 2.77% for the year with the December snowfall causing over 1,600 cancellations. Southeastern continue to work with Kent Route to reduce underlying delay through improving asset resilience, timetable improvement, reducing the impacts of weather and trespass on our railway and providing a robust operation to meet customer expectation. |
| Timetabling | 3308 | 96% of the complaints against the total received were about our timetable change in December 2022. This is the biggest change Southeastern have made to our timetable in the last 10 years. Southeastern have taken onboard all the feedback and complaints received and made a number of changes in the first six weeks of the timetable's implementation. Further changes are being made in May 2023. |
| Smartcards | 3134 | The usage of our Key Smartcard is growing period-on-period and we have seen an additional 54,736 users during 2022/23, a growth of 31%. Complaints relating to the Key have mainly been driven by fulfilment issues with app purchases, which occurred in the latter part of the year. We have been working extremely closely with our app supplier to fully resolve this issue and a fix is planned for P1 of 2023/24. |
| Claim rejected | 2931 | This year Southeastern has received a record number of Delay Repay claims, that has been driven by the recent strikes and train service performance. The number of complaints made was 0.43% against the total closed and every case is looked into to ensure the right outcome. The spike in P7 was contributed to by an auto Delay Repay processing issue of incorrectly declining claims for the strike day 01/10/2022, which we quickly resolved and put in practices to ensure this wouldn't happen again. |
| Ticket buying facilities | 2193 | These complaints are largely driven by passengers complaining about problems using TVMs and ticket offices being closed when they are scheduled to be open. The top three stations for this type of complaint were Deal, Broadstairs and Snodland. Vandalism is our top reason for TVM outages and following the successful migration of 'FareGo' Data, we're now producing new reports to help track and fix TVM failures. We're striving towards improved availability of our TVMs and currently tracking at 95% availability across our network. |
What is available and how to get it?
Southeastern is part of Passenger Assist – a national system that all train companies support, which allows us to make arrangements to assist our passengers with disabilities or restricted mobility. This is both for journeys on our network and where you're connecting with other operators.
We're committed to this system and we have a dedicated team who will help you book assistance.
For immediate travel
We understand that planning in advance isn't always possible – you can turn up at any station that is accessible to you and request assistance onto a train from a member of our staff. If the station doesn't have staff you can get in contact with us by calling Passenger Assist or using the help points located at all of our stations.
In Kent and East Sussex the train services have conductors and all of our High Speed services have On Board Managers.
We'll do everything we can to make sure that you're assisted as your needs require. If a train service isn't accessible to you, we'll provide alternative accessible transport at no extra cost.
Unfortunately, we may take a little longer to arrange this if we don't know you are traveling.
We can have this all arranged for you if you have booked in advance but please be aware that it may take a little longer if we are not aware that you are traveling
When travel is arranged in advance
For journeys planned in advance, you can book assistance through Southeastern (as well as any other train company) for journeys that are either direct or involve connections and other train companies on the National Rail network.
You can request Assisted travel at any point during your journey. To make sure we have staff available to help you, we recommend you book at least 2 hours in advance of travelling.
You can contact us to request Assisted travel at any time of the day. If your journey involves another train company we may need to confirm part of your journey with them. This might depend on their contact centre opening hours. If this is the case, we will discuss options with you.
Our Passenger Assist team is available 24 hours a day, and every day except Christmas Day on 0800 783 4524 (or for our text relay service, prefix these numbers with 18001). They can also be contacted by filling out a form on our website. Once you have made a booking you will be given a confirmation number, a copy of the booking can also be sent by email.
Not all Southeastern stations are accessible or staffed. Some of our trains are also Driver Only Operated (DOO), which means that there is no conductor on board.
When booking assistance to or from these stations, especially on DOO trains, we will do everything we can to ensure you get the help and assistance you need. We have a team of Mobile Assistance Staff who are able to assist people at stations or on and off trains when there are no other staff available.
If a station isn't accessible we can provide, at no extra cost, alternative accessible transport, such as a taxi, to take you to the most convenient accessible station.
Ways to book assistance for your journey:
Call: 0800 783 4524
Text Relay: 18001 0800 783 4524
Online: www.southeasternrailway.co.uk
(Available 24 hours a day, every day except Christmas Day)
The levels of assistance we're able to provide
There are a number of ways in which we can help you when you're travelling with us:
Help with planning your journey, including details of the accessibility of all stations across the National Rail network.
Advice about the facilities you'll find on the different types of train that Southeastern or other train companies operate.
Providing information about timetables including during times of engineering works when there are changes to the normal service, and travel may involve buses.
Advice on other support we can give you and how they work, like Sunflower Lanyards, Just A Minute (JAM) cards, and Priority seating cards.
Providing advice on how to use a mobility scooter or a wheelchair on our network, including details of how to obtain a copy of our wheelchair and scooter guide document.
Assistance with getting on and off the train – for example if you need guiding due to a visual impairment, or if you're a wheelchair user and need a ramp.
Help with luggage, when booked in advance.
Getting through the station, to your platform, boarding the train, making connecting services and onward transport within the station area.
The wheelchair spaces on our trains cannot be reserved. However, if you're travelling with a long distance operator it's advisable to ask about reserving a space as they are often very busy and allow wheelchair spaces to be booked.
Buying tickets: these can be purchased when booking assistance – however this needs to be at least 72 hours in advance if you wish for them to be posted to you. Collection from a ticket vending machine is another option but you will need to wait for two hours after your booking before they become available
How to make a complaint or feedback about great service you have received.
We've made sure that our contact centre staff are trained to help all of our customers and provide the best possible assistance, including customers with both visible and non-visible disabilities.
We'll do all that we can to assist you making your journey, but we're not able to accompany you throughout your journey. We're unable to provide personal care such as help with eating, taking medication or using the toilet. If you need this support when travelling, you should travel with a companion.
To make a booking or for any travel queries please call Passenger Assist –
Telephone - 0800 783 4524
Text Relay number - 18001 0800 783 4524
These numbers are available 24 hours a day, 7 days a week.
If you prefer to fill out a form to make a booking, please use the web form below. All fields marked * are mandatory.
You can also book Passenger Assist and track your requests through the new Southeastern app.
Create an Accessibility Profile to make booking Passenger Assist even faster.
Download our new app for free the App Store or Google Play.
For more information and to book assistance using our on line form please click on the following link- https://www.southeasternrailway.co.uk/travel-information/more-travel-help/accessible-travel
| | | | | | | | | | | | | | | |
| --- | --- | --- | --- | --- | --- | --- | --- | --- | --- | --- | --- | --- | --- | --- |
| Type | Metric | P1 | P2 | P3 | P4 | P5 | P6 | P7 | P8 | P9 | P10 | P11 | P12 | P13 |
| Booked | Volume of booked assistance completions | 1328 | 1414 | 1406 | 1446 | 1385 | 1521 | 1368 | 1258 | 1268 | 678 | 978 | 1424 | 1428 |
| Unbooked | Volume of unbooked assistance (Turn Up and Go) completed | 4586 | 4230 | 4596 | 4293 | 4167 | 4683 | 4015 | 3842 | 3626 | 1560 | 2664 | 3206 | 2777 |
Passenger Assist Quarterly Survey Report


Rail Period

did you receive all the booked assistance you required when you made your reservation?

Yes

Part

No
P1 2022/23
208
89.7%
13
5.6%
11
4.7%
P2

2022/23

212
92.2%
10
4.3%
8
3.5%
P3

2022/23

183
91.0%
11
5.5%
7
3.5%
P4

2022/23

184
89.3%
10
4.9%
12
5.8%
P5

2022/23

202
85.6%
24
10.2%
10
4.2%
P6

2022/23

225
87.9%
18
7.0%
13
5.1%
P7

2022/23

151
83.4%
13
7.2%
17
9.4%
P8

2022/23

147
85.5%
12
7.0%
13
7.6%
P9

2022/23

149
90.9%
8
4.9%
7
4.3%
P10

2022/23

61
85.9%
5
7.0%
5
7.0%
P11

2022/23

108
92.3%
1
0.9%
8
6.8%
P12

2022/23

122
89.7%
7
5.1%
7
5.1%
P13

2022/23

113
94.2%
2
1.7%
5
4.2%
Overall
2065
88.9%
134
5.8%
123
5.3%
Rail Period

On a Scale of 1-5 (1 being poor, 5 being excellent) how would you rate the service you
received from Southeastern station staff on the day of travel?


Volume of Answers

Average Score
P1

2022/23

234
4.6
P2

2022/23

229

4.8
P3

2022/23

200
4.7
P4

2022/23

204
4.7
P5

2022/23

239
4.6
P6

2022/23

252
4.7
P7

2022/23

186
4.5
P8

2022/23

165
4.5
P9

2022/23

164
4.6
P10

2022/23

73
4.6
P11

2022/23

120
4.8
P12

2022/23

134
4.6
P13

2022/23

122
4.7
Overall
2322
4.6


Rail Period

Would you consider using our Assisted travel service again?

Yes

No
P1

2022/23

234
99.6%
1
0.4%
P2

2022/23

225
99.6%
1
0.4%
P3

2022/23

196
100.00%
0
0.0%
P4

2022/23

207
99.0%
2
1.0%
P5

2022/23

231
97.1%
7
2.9%
P6

2022/23

251
97.7%
6
2.3%
P7

2022/23

177
98.3%
3
1.7%
P8

2022/23

162
97.0%
5
3.0%
P9

2022/23

161
97.0%
5
3.0%
P10

2022/23

71
97.3%
2
2.7%
P11

2022/23

118
97.5%
3
2.5%
P12

2022/23

129
96.3%
5
3.7%
P13

2022/23

118
99.2%
1
0.8%
Overall
2280
98.2%
41
1.8%