How busy is my train?
Our SeatFinder tools are designed to help you plan a journey with confidence. Using train loading data of the same service from the previous four weeks, we are now providing the most accurate information of how busy your service will be.
How do the seat availability tools work?
Many of our trains have sensors on board which can detect the weight of each carriage taking into account passengers joining and leaving the train. This information is fed back to our engineering systems which then generate a loading figure for each train and each station that the train has stopped at.

This information is then fed into industry information systems and enables us to display the average loading for trains for each individual day, based on the average loading figure from the previous four weeks. This data is now available for both weekday and weekend services.
---
If you're travelling today...
If you're travelling within the next two hours, to find out how busy your train is, simply check your journey on our Live Departure Boards.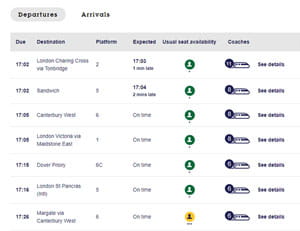 You can also view SeatFinder information on our Southeastern app in Departures & Arrivals, making it even easier to stay up to date with how busy your train is while you're on the move.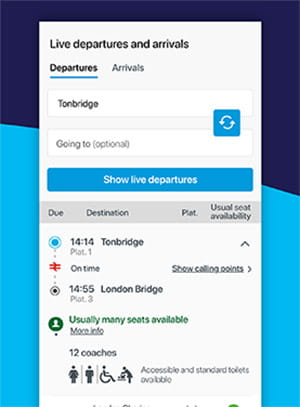 ---
If you're planning ahead...
If you're planning your journey in advance, you can use our SeatFinder Timetables to see how busy trains usually are on each individual weekday. So if you're only travelling a couple of days each week, you can compare each day to help you find the quietest times to travel.


---
Understanding how seat availability compares to social distancing
We have detailed below how our seat availability icons compare to social distancing requirements:
| | |
| --- | --- |
| | Many seats available |
| | Plenty of seats available |
| | Some seats available |
| | Only a few seats available |
| | Standing room only |
| | N/A |
---
Our SeatFinder tools currently provide information for weekday services and includes most but not quite all our trains. Some weekend data may not be available if engineering work affected that service the previous week.
If there is no seat availability shown for your journey, it means information isn't available for that train yet. We are working hard to bring you more information as soon as we can.
Our usual seat availability is a forecast only and therefore doesn't take in to account the impact of weather, disruption or other variables.
If you're planning to travel at the weekend, please
check if engineering work will impact your journey
. 
We continue to work on developing the tool to improve accuracy. Your feedback is hugely valuable as we test and learn. Please email
seats@southeasternrailway.co.uk
with your feedback.
SeatFinder availability is currently available on our Electrostar (class 375/376/377) and Highspeed (class 395) fleet only. These fleets operate on our Mainline routes, some inter-city London routes and on High speed services from Kent to St Pancras. Data is available for Southeastern-operated services only. 
We can display seat availability for trains operated by Southeastern and any other train company that makes this data available.
Our station colleagues can access this data and are able to help you plan your journey.