Summer cool
With more space on board
Summer cool with more space on board
This summer, we're providing more carriages on busy routes to the coast, and once on board you'll find that fresh air flows through all of our trains from air conditioning, vents or windows you can open if you need to.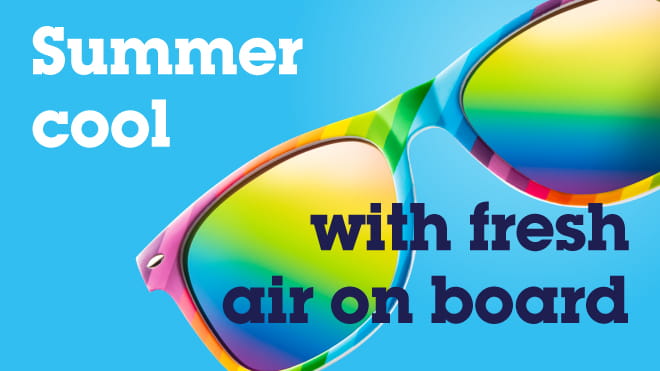 You may still find trains are busier on hot days as people head out to cool off at the seaside. Our popular destinations are Margate, Hastings, Broadstairs, Folkestone, Herne Bay and Whitstable. Trains can be busy towards the coast from 1030 to 1330 and returning between 1600 to 1900, so avoid these times if you can. You can use our handy SeatFinder tools to find the quietest trains.
On really hot days we'll have a 'crowdbuster' train on stand-by between Faversham and Ramsgate, longer weekday trains from Victoria to Ramsgate and there'll be extra staff on hand to help keep you safe and secure.
There may be one-way systems and queuing arrangements at the busiest stations, such as Margate and Hastings, so remember to bring a bottle of water and leave plenty of time for your journey.
You can keep up-to-date on our service disruption page or by following us on Twitter.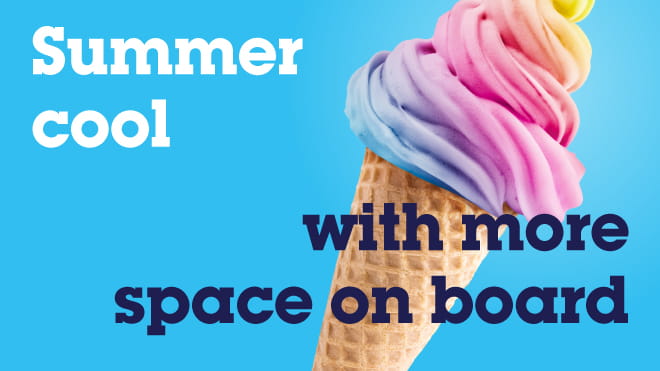 How we prepare for hot weather
When the temperature soars, things really heat up for our rail infrastructure – and it can't cool down with a cheeky pint or an ice cream. Metal rails in direct sunshine can be as much as 20°C hotter than air temperature, and have been known to get as hot as 51°C! And because they're made from steel – they expand when they heat up, so rails may buckle, and points can expand.
When our monitoring systems tell us that a section of track is likely to expand, we'll put in place speed restrictions to reduce the chance of rails buckling, so you may find your journey a little slower than usual. We work with Network Rail well in advance to make sure that your railway is 'hot weather ready', then keep a close eye on the forecast and check the infrastructure throughout the summer.
How we prepare:
Check that train windows, air-conditioning and vents are working correctly – nearly half our trains are air-conditioned with systems that draw in a full carriage worth of fresh air from outside every 6-9 minutes
Bespoke weather forecasts and high-tech equipment to monitor rail temperatures
Reflective paint so rails stay cool and expand less – rails painted white can be 10°C cooler!
Helicopter inspections of the tracks using a thermal-imaging camera
Vegetation and litter cleared to prevent line-side fires
Speed restrictions where rails are particularly hot, so that trains can move safely along the track
How you can prepare
We know just how tricky it can be to stay hydrated in the summer. Between dashing to work, gym, or school pick-up, you could find yourself feeling faint if you've not remembered to cool down with a cold drink. That's why we've come up with some tips for keeping your cool while travelling by train this summer:
Carry water with you
Don't board a train if you feel unwell
If you feel unwell on-board, avoid using the emergency alarm and get off at the next stop instead, where our staff will be able to help you more quickly
FAQs
We understand that fresh air and ventilation on our trains is very important to passengers at the moment. Each of our trains have different ventilation systems, and here's some extra information on how they work, so you can travel with confidence:
Mainline and Highspeed trains
You'll find our Class 375 and 377 Electrostar and Class 395 Javelin trains on Mainline and Highspeed services between London, Kent and East Sussex. These trains are air conditioned and make up almost half of our train fleet. Their air conditioning systems draw in a full carriage worth of fresh air from outside every 6-9 minutes, giving all our passengers the reassurance they need to travel with confidence.
We're also trialling antiviral high-efficiency particulate air (HEPA) filters on these types of trains which could further improve the quality of the air on board.
Metro trains
You're most likely to see our Class 465 and 466 Networker and Class 376 Electrostar trains on Metro routes around London. They have opening windows and air vents, and on some you'll find adjustable air blowers similar to those you'd find on a plane.
Opening windows and vents help keep the air inside our trains clean and fresh, and you're welcome to open additional windows to increase the ventilation, so you can travel with confidence.
We operate three types of service on our network – High Speed, Mainline and Metro – and nearly half of our trains are air-conditioned.

We run Javelins on our High Speed routes, Networkers and Mainline Electrostars on Mainlines, and Networkers and Metro Electrostars on suburban Metro services. The Javelins and Mainline Electrostars are air-conditioned, while the Networkers and Metro Electrostars are not.

Networkers were built in the early 1990s by British Rail, when it wasn't usual to fit air conditioning to metro-style trains. It would be incredibly difficult to retrofit air-conditioning to these trains due to their age, limited space, and the extra power supply needed to drive the air-conditioners. Metro Electrostars are much newer - built around 2004 – but air-conditioning units at that time weren't powerful enough to manage the regular change of air from the frequent stops made on Metro routes. Instead, they have a pressure ventilation system that continually introduces fresh air into the train.

While we can't retrofit air-conditioning to these types of train, technology has advanced and any newly built trains introduced to the network will have air-conditioning as standard. In October 2017, we introduced 68 extra air-conditioned carriages to our train fleet, which allowed us to boost capacity on some of our busiest services.
Train heating is controlled by thermostats on each individual train and is set by our engineering depots. Some of our trains that operate in our "Metro" area don't have air conditioning so, in the summer months, the heating on these trains is turned off.
If you are on board one of our trains and have a concern about the heating, please do
get in touch
and let us know. It will really help us identify the train if you could include the carriage number when contacting us, this can usually be found at the end of each carriage near the doors. We can then either make arrangements for the heating to be turned off (on trains where this is possible) or have the train checked by our engineering team to see if there is a fault with the system.