On Track app
Access personalised, real-time information and super-fast journey planning for all Great Britain train journeys
Buy tickets and plan your journey 
Access personalised, real-time information and super-fast journey planning for all UK train journeys. Our On Track app enables you to quickly see your common journeys, platform changes and live arrival and departure information and with our new SeatFinder tool, you can now also see how busy your train will be so you can plan your journey with confidence. You can also buy train tickets to anywhere in the UK, buy and load Key Smartcard tickets from your phone, and quickly claim Delay Repay compensation. 
Download it FREE from the App Store or Google play
---
Features include
SeatFinder information, available in both Departures & arrivals and Common journeys, allowing you to see how busy your train will be
Real-time information on the availability of on-board toilet facilities (Southeastern services only); train length information for many services; and detailed platform information
Buy single, return and Season tickets on your Key smartcard 
Load tickets straight onto your Key card by tapping the card onto your phone after purchase 
You can also view and check which tickets are active on your Key card  - your virtual ticket wallet! 
Personalised, real-time dashboard that presents train times, platform information and live service updates for the journeys you make regularly 
Easy-to-use journey planner for all national train routes 
Detailed breakdown for each individual leg of your journey - including the current location of your train
Live departure and arrival boards
Buy tickets for anywhere in the UK
Pay with PayPal, Visa Checkout, and all major credit and debit cards
Improved Delay Repay compensation process, making it faster and easier to make a claim
Save your favourite stations
Customise what you see for rapid access to the information you need on the move
Quickly see personalised London Underground line status updates
Powered by data from National Rail Enquiries, Southeastern and Transport for London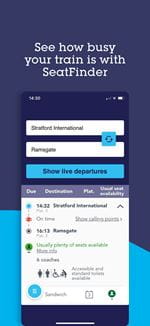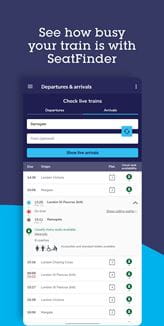 iOs View                                    Android View
---
What our customers say
"I love all the personalisation. Feels more like my app than other travel apps" J. Bruce
"As a free app it knocks the socks off anything out there" Steven Dinnage, Brighton
"Love that the app will link to buy tickets from my searches - no longer need to use two apps" C. Nunn, Scarborough
On Track App Top Tips
---
Got questions about the app? We can help...
We would love to hear your feedback. You can feedback directly through the app (within the customer services menu option), by contacting our customers services team, or by leaving feedback in either of the app stores.
Please contact our customer services team who can help on 0345 322 7021.
Yes, you can plan any journey and buy tickets for any journey in Great Britain, with no commission charges.
Once you have planned a journey, select the three dots on the top right of the screen to see more options. You will see an option to add a railcard. Please note that once a railcard is selected, all prices displayed in the app will reflect the railcard discount. Railcards will automatically apply to all journeys planned subsequent to selecting a railcard. To remove a railcard, repeat the steps above and select none on the railcard screen.
Once you have planned a journey, select the three dots at the top tight of the screen to see more options. Select edit a journey and select prefer On Track trains option. This will only apply to the specific journey you are planning and will not automatically apply to future planned journeys. You will need to follow these steps for each journey you plan.
Once you have planned a journey, and selected your preferred train and time, you will see each section of the journey beneath a map. If you click into the specific leg or stage of the journey you will see the name of the train operator at the top of the screen, above the stops on that stage of your journey.
Select the menu option by swiping left or tapping the yellow/green menu icon at the bottom left of most screens. Select station information from the menu and choose the station you wish to find. By clicking on the map at the top of this screen you will be able to see your own position in relation to the station you have selected. You will need location services turned on within the app for this feature to work. To check if location services are on go to settings, privacy, location services and select on for the app (iOS only).
You can personalise your dashboard by removing widgets, adding or deleting information within widgets or re-ordering your widgets. To re-order items within your dashboard select the eye icon in the top right corner of the screen, this allows you to re-order or hide any widgets. To update an individual widget select the cog in the top right corner of the widget, where you can add, delete or re-order information.