Landslip repairs on the Hastings line
Line to remain closed between Tonbridge, Tunbridge Wells and Robertsbridge until Saturday 20 February.
Following a landslip on a railway cutting at High Brooms has resulted in movement of an embankment, Network Rail is using the opportunity to make additional repairs to the railway at Wadhurst.
This means that the railway between Tonbridge, Tunbridge Wells and Robertsbridge will remain closed until Saturday 20 February, in order for work to take place and for train services to resume over the affected area.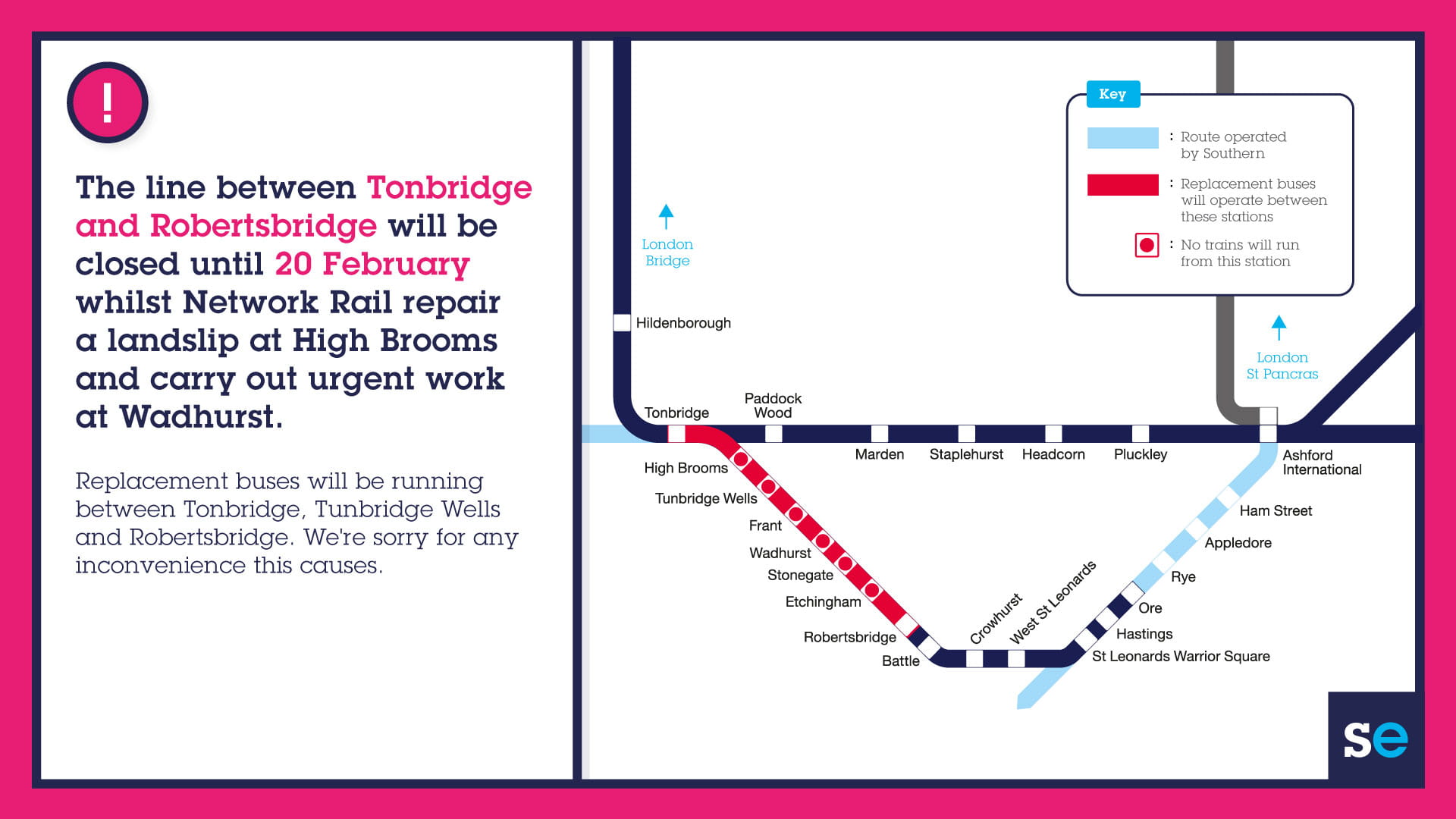 Working together with Network Rail, Southeastern has a contingency plan in place to make sure you can get to where you need to go, but please check before you travel.
How does this affect my journey?
Trains are suspended between Tonbridge and Robertsbridge
What do I need to do?
Replacement buses are running between Tonbridge, Tunbridge Wells and Robertsbridge.
Please note that social distancing on local and replacement buses may not be possible, or you may have to wait longer than normal to be able to board a bus.

You may use your ticket on the following alternative services to help you complete your journey, at no extra charge:
Southeastern trains between Ashford and London (including High Speed services between St Pancras and Ashford)
Southeastern services between Ashford International and Hastings
London Underground between our London terminal stations
Due to the late notice of this closure, online journey planners will only be updated up to 48 hours in advance.
What has happened?
Network Rail engineers are to carry out work to fix a cutting at the entrance to a tunnel on the London to Hastings line early in order to reduce overall impact on passengers.
A potential landslip at the southern end of Wadhurst Tunnel was picked up by early warning alarms in December and a team had been mobilised to fix it along with several other defects over the course of the year.
Since November 2019, monitoring alarms have sounded on at the entrance to the 1100 metre tunnel, the most recent in December and a team was mobilised to repair over the course of this year.
What is Network Rail doing to repair the damage?
Over 5,000 tonnes of material needs to be removed at the top of the cutting, following which Network Rail will be carefully re-grading the cutting and putting in 'soil nails'. The repaired cutting will be resilient against climate change for 120 years.
As the Tonbridge section of the Hastings line is already closed to repair a landslip at High Brooms until the 20th February, engineers have decided to repair the weak section of embankment at the Wadhurst Tunnel at the same time.
Will I get compensation?
We'll be running an amended timetable during the closure. If your journey is delayed by 15 minutes or more against the current, amended timetable, please remember to claim Delay Repay.
Car Parking
If you have a season car park ticket for stations along the Hasting Line, you can park at Paddock Wood, Staplehurst or Headcorn stations at no extra charge. Please note, this does not apply for e-tickets.