Thameslink Programme
Closures will affect journeys over Christmas and New Year as Network Rail complete the rebuild of London Bridge station
As part of the continuing work at London Bridge up until January 2018, there'll be changes to our services. Read more on:
---
Rebuilding London Bridge station
What is the Thameslink Programme and why do we need it?
The multi-billion pound government sponsored Thameslink Programme is one of the UK's most innovative and largest transport infrastructure improvement programmes. It will transform north-to-south travel through London by providing new direct links from south of London to the East Coast mainline (Peterborough and Cambridge). It will also increase the capacity of London Bridge station and provide more reliable journeys thanks to new trains, track and signalling. Up to 24 Thameslink trains an hour in each direction will run through central London at the busiest times.
The frequent service between St Pancras International, Farringdon, City Thameslink, Blackfriars and London Bridge or Elephant & Castle, will provide relief for busy London Underground routes, especially the Northern line. 
What's going on at London Bridge station?
Work to expand the station will be completed in 2018
There will be nine new 'through' platforms – two of which will be dedicated to Thameslink services – and six new terminating platforms
All platforms will have step-free access
Station facilities will be improved with new shops and cafes
There will be a huge new concourse, bigger than the pitch at Wembley Stadium
Railway lines will be untangled so fewer trains will be delayed outside the station waiting for platforms to clear 
What changes are currently affecting Southeastern services?
Cannon Street trains are not stopping at London Bridge station until January 2018, when the station is complete. 
Most Charing Cross trains have resumed stopping at London Bridge. 
Charing Cross services from St Johns, New Cross, Deptford, Greenwich, Maze Hill and Westcombe Park are permanently diverted to Cannon Street.
23 December to 1 January 2018 - Major work taking place that will severely impact our trains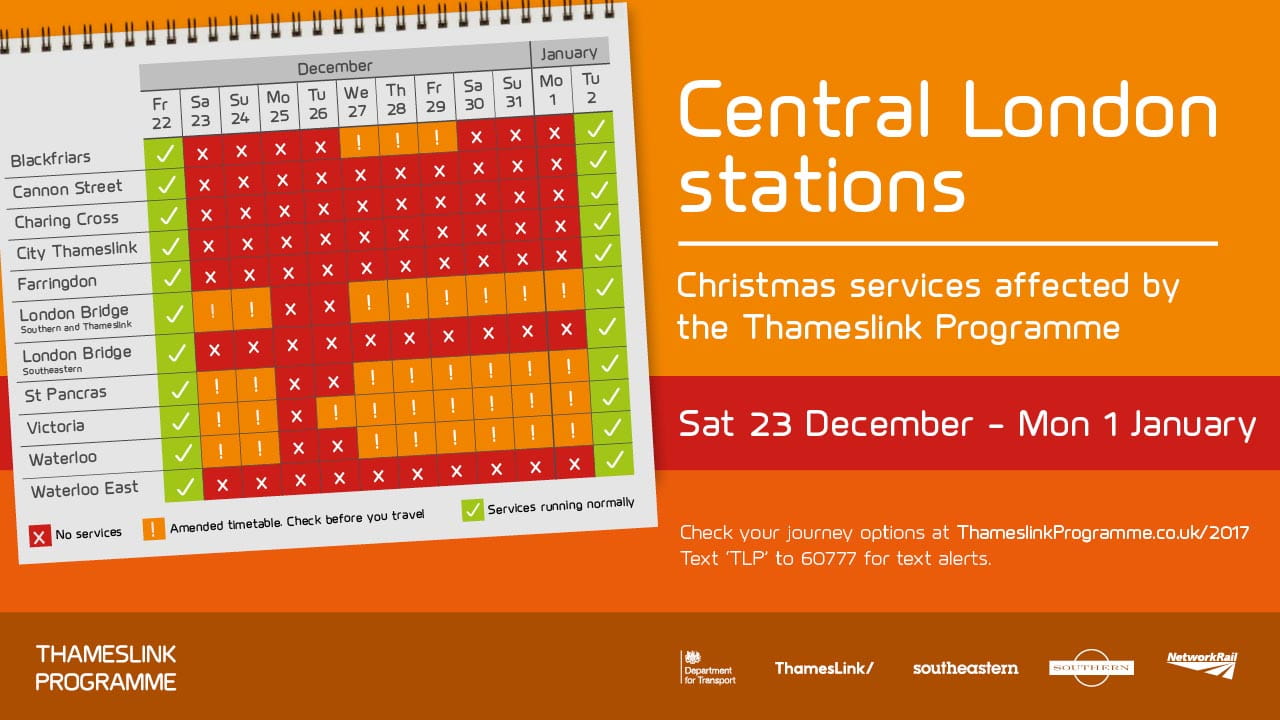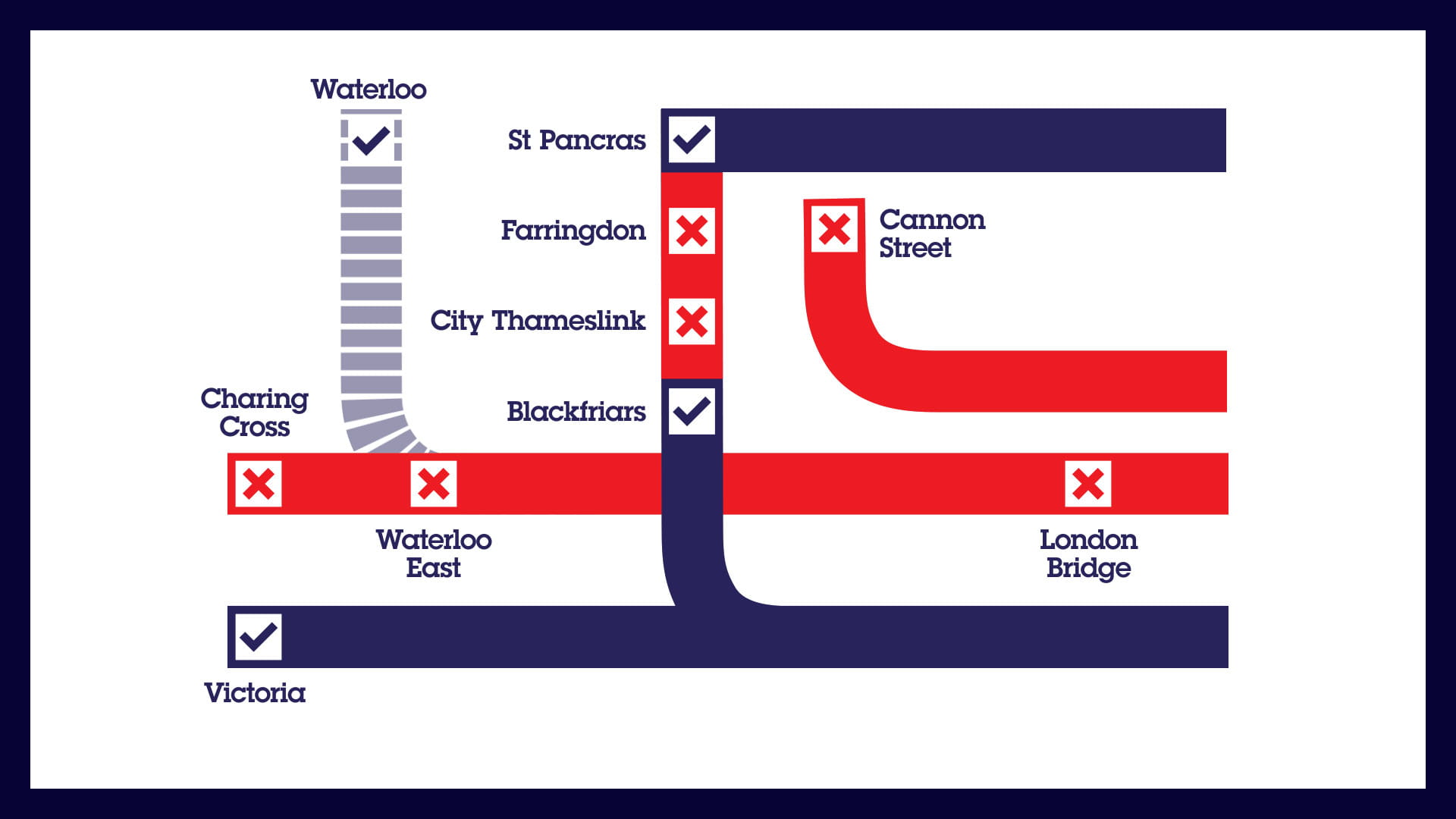 Services will not run to or from Charing Cross, Waterloo East, Cannon Street, London Bridge, Deptford, Greenwich, Maze Hill, Westcombe Park, New Cross and St Johns for the entire 10 day period from 23 December to 1 January
On the three 'working days' from 27 December to 29 December, an amended timetable with a significantly reduced service will operate to Victoria, Blackfriars and Waterloo.
There will be some additional high speed services and non high speed tickets will be accepted to Stratford International and St Pancras International on these three days only, between Kent and Stratford or St Pancras.
Check your revised times using online journey planners or download timetables using the links below. Table numbers are the same as for our normal timetable booklets except there is no bespoke high speed table. The following timetables are valid from 27 to 29 December 2017 -
As well as the closure of stations in the London area, there are changes to all Southeastern trains over the Christmas period, including high speed service
There are no trains on Christmas Day or Boxing Day - high speed services will NOT run on Boxing Day this year
Victoria is expected to be very busy, especially at peak times on 27, 28 and 29 December
We strongly suggest that, if you can, you avoid travelling at peak times
To help you get where you need to go Southeastern tickets will be valid on a wide range of Underground, Overground, DLR and bus routes over the festive period, as shown on this map -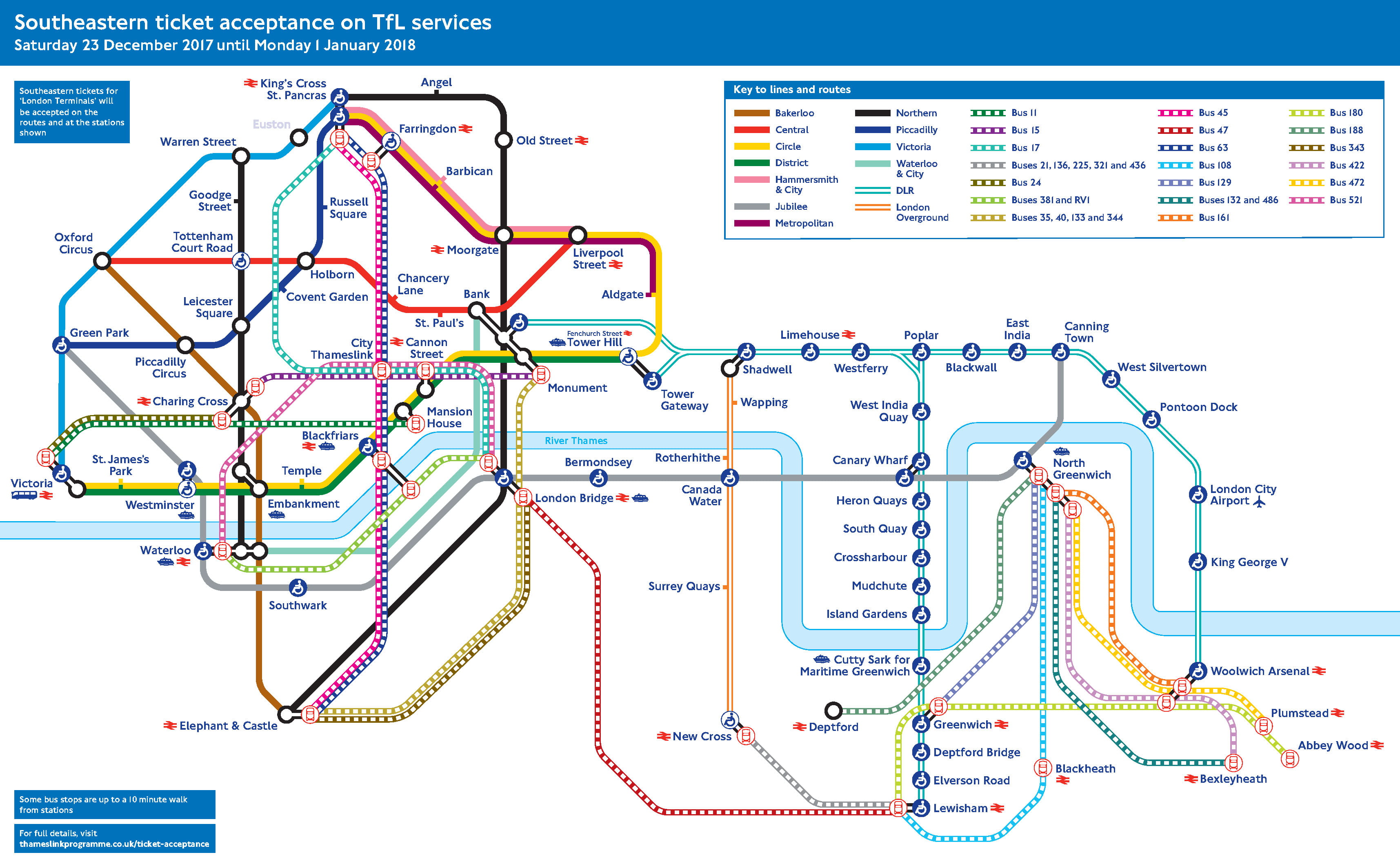 For detailed advice, including ideas for alternative routes to help you avoid the busiest services from your local station please click here

.

Remember that from 2 January we'll be running a revised timetable. For more details see the section below.
Read more on the January 2018 timetable
Southeastern is planning to re-instate services to and from London Bridge after the completion of major works at the station in 2018.
This means some changes to our timetable effective from Sunday 31 December 2017; however, because of major engineering works associated with the Thameslink programme, the actual first date of full running will be Tuesday 2 January 2018.
What does this mean for passengers?
Following the major changes over Christmas, whilst Network Rail undertook the final major works at London Bridge as part of the Thameslink Programme, Southeastern is introducing a new timetable from 2 January.
New platforms 1, 2 & 3 open at London Bridge meaning trains to and from Cannon Street can resume calling at London Bridge
Most services to/from Cannon Street arrive one minute later or depart one minute earlier to allow time for the new stop at London Bridge
Some services that have been diverted long-term as a result of the ongoing London Bridge works are restored to normal
Minor changes to times and stops on most of our routes - please check if your service is affected
Changes to the timetable are detailed in this
document
.
Read more on the May 2018 consultation timetable
This consultation is now closed.
Changes to the timetable are detailed in this document.

You may also click on the below links to view the individual timetables below: