Day out in Folkestone
Get to Folkestone with our high speed trains and discover a town full of art, independent shops, great food and entertainment.
Here are our suggestions to help you discover more #SEhiddengems
For the seekers
A stone's throw from the sea and less than an hour from London, Folkestone's Creative Quarter is a hive of creativity – an urban village of designer-makers, technophiles and artists. The Creative Quarter is packed full of hidden gems – shops are not just sales outlets, galleries are studios, bars are performance spaces, cafes are bookshops and offices. Take a leisurely stroll, shop, eat, drink, relax and find yourself in conversation with strangers.
The place to be seen
Originally the railway terminal for the Folkestone-Boulogne ferry and departure point for soldiers on their way to the Wester Front, Folkestone's newly restored Harbour Arm is home to small, independent businesses, giving the pier its unique flavour. Open daily throughout the year, Folkestone Harbour Arm is a place for food, drink and live music, as well as one of enjoyment of the town's heritage and history.
Everyday vintage clothing
Bounce in to the warm and fuzzy embrace of shop owners, Saul and Rachel, who provide affordable everyday vintage clothing for everyone. From Levi's jeans to French workwear jackets; mechanic's overalls and classic dungarees to corduroy dresses; flannel shirts and American apparel to bags, shoes and sunglasses - Bounce offers a variety of clothes and accessories to suit every budget and style.
Folkestone's unique clifftop promenade
The Leas has delighted generations of visitors with views across the English Channel -decorated with lawns, beautiful flower beds and baskets, this coastal garden also boasts an ornate Victorian bandstand and beautiful Edwardian architecture. The famous zig-zag path connects The Leas with the beach and Coastal Park, which includes walking and cycling trails, as well as an amphitheatre and the largest free adventure children's play area in the South East.
Passionate about pizza
Situated within Folkestone's burgeoning Creative Quarter, Luben's serve authentic wood-fired pizza, using their own sourdough recipe. Open daily from 12pm, Luben's offer a variety of vegetarian, vegan and gluten-free options, too! So, whether you're after an intimate, casual dining experience, a celebration or a take-away, Luben's has got you covered.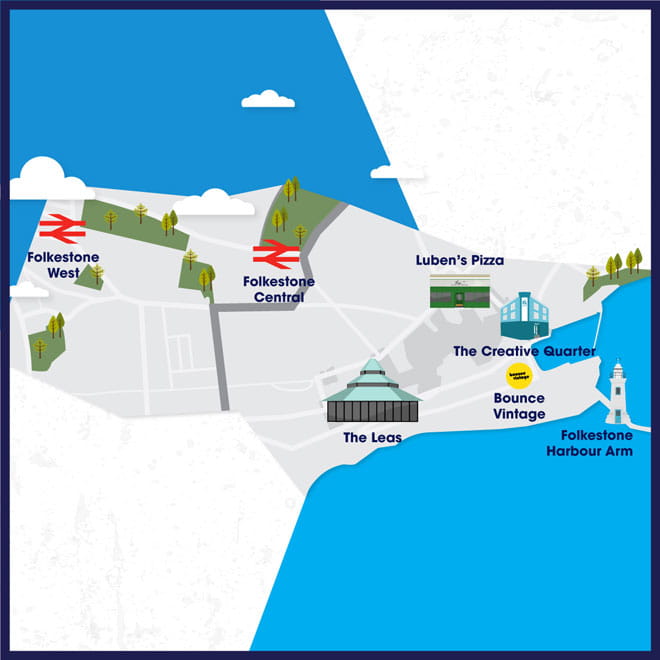 ---
Please note: All of our recommendations may have different opening times, events and admissions.
Please check their information before your visit as we wouldn't want any disappointment on the day.
---

Looking to discover more #SEhiddengems? Click

here

 for some inspiration 

Explore our

network map

and start planning your journey now!